Have you heard of the fourth trimester in pregnancy?
The fourth trimester is now widely talked about amongst new mums as the continuation of the trials and tribulations of pregnancy.
In pregnancy our first trimester takes us up until 14 weeks, the second up to 28 weeks and then the third until baby is born, for some that is 42+ weeks. The 12 weeks that follow with a newborn is now coined the fourth trimester.
I had never heard of this five years ago with my first born, but it makes perfect sense to me this time round. It's that curious time when you are adjusting. It is filled with wonder, feeling a bit lost at times and questioning your every decision.
It is euphoric.
It is lonely.
It is amazing.
It can be isolating.
It can be painful.
It takes the washing volumes to a whole new level.
My new born is now 8 weeks old as I write this and for the first time last night managed a consecutive 8 hour sleep – whooping for joy here today.  If only it wasn't a one off which I suspect it might be as we have the 8 week immunisations coming up this week. A concoction of not one, but four injections – that is sure to topple the apple cart over.
There has been many highs and lows in the last few weeks and having a newborn is HARD WORK. I have spent many hours stuck to the sofa for feeding frenzies also known as cluster feeds that in the first few weeks were randomly spaced throughout the day and night. These can be very isolating and lonely times for me.
The highs have included seeing my little girl pile on the pounds in the last couple of weeks and instead of being a tiny 6lb she was 10lb by six weeks old, hurray! Go me – all the hard work of breast feeding is paying off!
Other highs include the baby snuggles, baby smells, baby outfits, baby gurgles, baby smiles, the support from family and friends, food being delivered to my mouth and the company of others.
One of my many lows during the fourth trimester has been breastfeeding. I find it really difficult to do and I'm sure I am not alone voicing this one. I struggled with my first born but didn't get that much help whereas this time round I had fabulous support from our local breast feeding team and a local midwife who lives around the corner. They got me through some pretty hard, desolate times.
Unfortunately for me I have had to ride out having excruciatingly sore nipples that were cracked and blistered. As you can imagine every feed was a tear jerker at one point and caused lots of swearing if I'm really honest. I endured mastitis on top of all this before finding out my little one had a posterior tongue tie.
To get this treated on the NHS would have meant a long drive to Dudley – over an hour away to get it surgically cut. This was a bit tricky considering I couldn't drive for six weeks post C-section and so I chose to pay for a private assessment and treatment in Nottingham. The difference it made was HUGE.
I am so grateful to have seen (and to have been encouraged to go see) the breastfeeding specialist who listened, assessed my little girl, but also listened and assessed me before dividing her tongue tie so quickly. She helped me with my feeding attachment and positioning and with the extra local breast feeding team support I haven't looked back.
Feeding is now a joy and not a nightmare – which I never thought it would be. It has now turned into one of my highs were I get to sit and just spend time with my little girl.
One of the interesting things with a newborn and an older child is juggling the school run. Feeds often have to be cut short as I have to get to school and collect my little boy by a certain time. Luckily my little girl is just fitting in with all this and taking it in her stride. She is very good at adapting.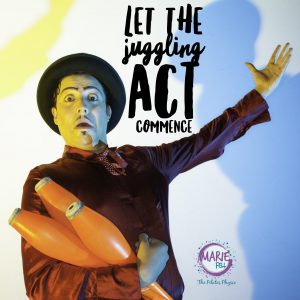 Sometimes we are amongst the last people to get to school, but we always make it before the gate closes.  So far I'm pleased to say I've not been the last to arrive – that is a huge achievement. Getting three people ready to leave the house instead of two makes such a difference and its all in the timing. I find myself preparing to try and leave the house almost an hour before it's actually time. This seems to work for me.
My calendar is my new best friend to help me manage school requirements. In the run up to Christmas we have needed nativity outfits and raffle tickets and all sorts so if I write it on my calendar it helps me be organised and remember the many things. So far, so good.
I've realised in all of this that I am an extremely organised person and I like to know that everything is ready or done in advance as much as possible. Coats need to be hung up where they live and my baby sling needs to be in its correct home otherwise chaos arrives and leaving the house takes on a whole new level of frustration and panic.
What throws a spanner in the works is having a husband and a five year old who don't prioritise being organised and so that causes a few issues and heated discussions – daily on repeat. I've decided (jokingly, but not joking) that each time I pick up after one of them I charge them a virtual £20 for my services.  I am not cheap in the hope that they will value my service eventually. (I'll give them my bill at the end of the month).
Another interesting point that came to light during this post natal phase is that not many people are interested in ME. From a medical viewpoint I mean. No one has asked me about my tummy or checked it for a gap. No one has asked if my water works and back passage are working as normal. Even the GP wrote to me saying congratulations on the birth of your child, we don't routinely see post natal mums unless you need contraception, have persistent pain or bleeding or any other matter.
What this is saying is that unless you have a serious medical need we don't need to know.
This concerns me on many levels.
The midwives have a lot of baby checks to do and the standard uterus checks on mum but they don't really have the time to ask the other questions with the care and consideration they need.
They also don't often have the correct advice about pelvic floor exercises and safe tummy information, as that is not their remit or speciality. Women's health physio's do not have the numbers or funding in the NHS to offer this to every woman. Yet in places like Europe, (France, for example) this is standard care.
Mums are NOT getting their pelvic floor or tummy muscle function checked out at all unless there is a serious problem, I suspect, and then hopefully it is mentioned and picked up by someone. But who?
There is a huge need to put Mums back on the map, years ago many stayed in hospital for respite after C-section surgery for up to a week. Now we can be shipped off within 24 hours if there are no medical complications.  Without pain relief may I add – you are told to take your own paracetamol and ibuprofen! (That's ok if you….. a) have them in your house and b) they are strong enough in the early days).
I feel I have a duty and a mission to start a national campaign of #mumsmatter so please watch this space for that one. Please do write to your MP if you feel strongly about this also.
This links in quite nicely to one of the things I was really worried about before my baby arrived.   HOW AM I going to have a shower, get dressed, and eat my food?  I struggled with this with my first born.
Luckily we bought an angel care bath seat which my little girl sits in without needing to be held so I can jump in the shower with her sat in that if she is not sleeping in her cot.
I have gone for ease with this baby. Anything that makes my life easier is a god send. I have a crib that attaches to the side of my bed, for ease with the night feeds. I bought an isofix base for the car seat so that its easier to make car journeys especially getting two children in and out of the car. I use my baby sling a lot for the morning school run as I can walk in and have both hands free and not clog up the corridor with a pram.
I also am extremely fortunate that I have a baby this time who actually does take a morning nap without the need to be constantly held or pushed in a pram. She is a pure angel baby. She also likes to spend time on the floor lying down which is a revelation to me as my first born was extremely colicky and hated that.
So all in all, my experience in the fourth trimester IS getting easier but it certainly hasn't been plain sailing.
I know I am not alone in the rollercoaster ride of the first few months as other mums are riding it out with me. The consolation this time round is that I have the experience to know it will get easier with time and this is just a phase.  By the time my little boy was four years old I felt like my old self again. So I know there is light at the end of the tunnel.
I also know they grow up far too quickly and my little tiny baby is already not so tiny. I am trying to soak in all the baby cuddles and enjoy the poonarmis and the feeds in the night-  because right now my little girl needs me and I know in a few years this wont be the case as much.
"Enjoy them whilst they are young" is my motto and I intend to.
The affirmation "this is not forever" also works well when they are uncontrollably screaming,  if you need that one t0o!
Marie x
Marie Fell is the founder of The Pilates Physio here in the UK. She is a qualified physiotherapist with over 12 years NHS experience in a wide array of specialisms and her passion lies in Posture, Pilates and the Pelvic floor! I am dedicated to helping empower ladies and gents to remain fit and active through class or 1:1 private Pilates/physiotherapy sessions. My mission is to empower, inspire and educate others to move freely and keep healthy and teaching Pilates with a clinician's hat on allows me the best of both worlds.